Cloud Computing is Set to Unleash
a Perfect Storm in Business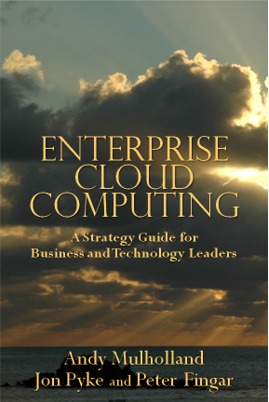 Special Offer:
Buy the Book from Bizanalyst thru

at 26% Off.
In stock. Ships direct from publisher's warehouse.
Also available on Kindle .
What the Thought Leaders are Saying 3 min
Frequently Asked Questions (FAQ) 8 min
We are witnessing the third seismic shift in information technology over the past fifty years.
In the beginning it was centralized computing where mainframe computers gave companies economies of scale in handling their data processing. Then it was client-server computing driven by networks and PCs that gave companies new sources of efficiency.
Now we are witnessing the emergence of a third computing model and it will have a huge impact on business -- especially in today's economy. As with the first two computing models as they emerged, we may not be totally sure what it is or how it will change the rules of business and create new winners and losers in the marketplace.

It's called Cloud Computing and the economic and innovation implications are game changing. No one needs to know more about the business implications of Cloud Computing than C-level executives responsible for the future of their companies, for the wow isn't just about technology, it's about the promise of on-demand business innovation. But even more than understanding this new wave, they need to act, and act now.
Written by industry veterans with a combined leadership experience of over 100 years at the intersection of business and technology, Enterprise Cloud Computing provides strategic insights, describes the breakout business models and offers the planning and implementation guidance business and technology leaders need to chart their course ahead.
▼ Watch the Popular 8-Minute Youtube Overview ▼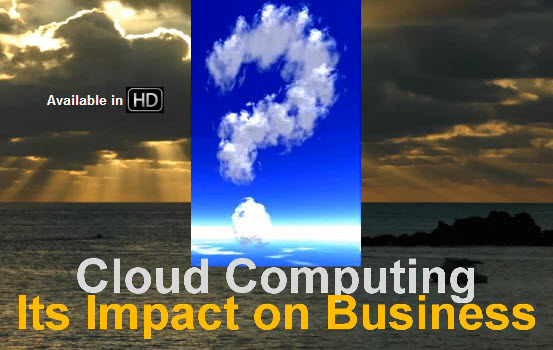 A one page synopsis published in
Conspectus
.
Read
SMARTER STRATEGIES

http://www.smartertechnology.com/c/a/Smarter-Strategies/Four-Tips-How-IT-Managers-Can-Improve-Bottom-Line-Results-via-Cloud-Computing/
Four Tips: How IT Managers Can Improve 'Bottom Line' Results via Cloud Computing
There's no stopping the cloud these days. And IT managers can greatly improve their company's business operations by effectively embracing it.
Just two years ago, Oracle's Larry Ellison famously fumed about a new tech-buzz phrase. "What the hell is cloud computing?" he said at the time. "I have no idea what anybody is talking about. I mean, it is really just complete gibberish."

Sorry, Larry. By now, we'd imagine that even you would concede that cloud computing not only exists, but it's emerging as possibly the dominate topic within the IT universe today. And it's one that IT managers cannot ignore, given how end users are eager to take more control of their tech services—a movement that's fueled by the wealth of opportunities that cloud computing, Web 2.0 and mobile solutions provide.

In the end, it's all about making an organization more efficient, effective and profitable, according to the book "Enterprise Cloud Computing: A Strategy Guide for Business and Technology Leaders" (Meghan-Kiffer Press, available now). In the book, authors Andy Mulholland, Jon Pyke and Peter Fingar present a guide for managers to take the best advantage of these rapid shifts within the technology landscape. For more information about the book, click here.

Here are four tips from the book that IT managers need to know about:

1. Business needs—not tech wish-list thinking—must drive cloud-computing decisions.
Value generation must be the key determination of cloud acquisitions. The cloud increases the speed and tempo of an organization, helping people work smarter and collaborate better. But IT budget planning usually works a year or more in advance, presenting a challenge for the need for speed that cloud-adoption models require. The solution? Make cloud computing purchases part of a monthly operating-cost budget. This will allow for enough elasticity to deploy as many or as few cloud computing tools as needed for new business initiatives.
"Enterprise Cloud Computing"
provides crucial information
about cloud computing in the business world.
Here are four tips from the book
you need to know now.
2. Ensure cloud buy-in from naysayers by stressing its better and faster qualities.
The U.S. Department of Defense (DOD) demonstrated the sheer swiftness of this trend's capabilities when it used cloud computing to respond to the 2010 earthquake in Haiti. There weren't any basic communications networks available. So the DOD made available what it calls the Rapid Access Computing Environment (RACE) system to serve as the network platform for relief workers, so they could share information in this impoverished region. Workers were then able to collaborate using this tool, tapping upon social media networks to pinpoint and direct local Creole translators and counselors throughout the world to assist with local needs. In a traditional computing environment, getting this kind of response would have taken considerably longer. While not all businesses work is the kind of life-or-death scenarios that the Haiti situation presented, the same demand for faster, better response often translates to success or failure of the mission.
3. Proper governance provides needed foresight. But it shouldn't prevent cloud computing initiatives either.
The mobile worker who heads to product launches, makes on-site client presentations and performs other out-of-office roles is less likely than ever to simply wait for the IT gang to magically find and acquire IT tools. With Web 2.0, this worker can simply find the right stuff and buy it off the cloud. This presents governance issues, of course. Potentially trouble questions will emerge, such as "How do we allow for a service to be supplied when we have no idea how many will access it, and where they'll be getting it?" and "Who ensures that these tools are secure and reliable?" But these inquiries aren't deal-breakers either. IT managers must work with suppliers to ensure that cloud resources are effectively deployed throughout the enterprise. Policy management must provide the kind of education that allows users to self-protect, for example, as the days of inside-out, centralized command-and-control IT architecture and governance are fading.
4. Be prepared to adjust your interpretation of "measurable success."
Ultimately, because the cloud must work as a business tool first and a tech resource second, you won't fully quantify its value as you've done within the traditional IT environment. Instead of focusing, say, on uptime stats, you may be creating some new ones—like "new business opportunities created."
..
http://whatis.techtarget.com/definition/enterprise-cloud-computing-faq.html ...
Enterprise Cloud Computing FAQ
What is cloud computing?The U.S. National Institute of Standards and Technology provides the most neutral definition of cloud computing. "Cloud computing is a model for enabling convenient, on-demand network access to a 18 Enterprise Cloud Computing shared pool of configurable computing resources (e.g., networks, servers, storage, applications and services) that can be rapidly provisioned and released with minimal management effort or service provider interaction. This cloud model promotes availability and is composed of five essential characteristics, three delivery models, and four deployment models."
What is enterprise cloud computing? Enterprise cloud computing is the special case of utilizing cloud computing for competitive advantage through breakout opportunities both for cost savings and, more importantly, for business innovation in terms of unprecedented speed and agility with vastly improved collaboration among business partners and customers. What does "cloud computing" mean for the enterprise? More important than the question of "what is it?" is why it matters. Here are three key points.
1) On the cost side of the equation, many, but not all, IT and data center costs can be reduced and tied directly to usage, up or down as needs go up or down (rapid elasticity).
2) But there's more, much more, on the revenue side. Risk and startup expenses for innovation initiatives can be cut dramatically, letting companies take more small bets and test out more new ideas. With no upfront capital expense, new projects can be scaled up instantly if they take off, or shut down quickly if they fail. Massive scalability and up-or-down elasticity give companies a whole new sandbox for testing new business ideas and growing them if they take off.
3) Companies don't work alone, and, on average, over 20 companies make up today's value chains. Cloud computing allows a company to collaborate in new ways with its trading partners, and collaboration is the key to gaining competitive advantage across the value chain. By establishing shared workspaces in "Community Clouds" employees from multiple companies can work together as a "virtual enterprise network" and function as though they were a single company. They all participate in the same value delivery system, sharing computing, communication and information resources. This is especially important as no one company "owns" the overall value chain.
Is cloud computing new? Cloud computing is not a new technology or architecture or methodology. But it is a new Information Technology "delivery model" where all computing and networking resources are delivered as "services" that are elastic (use as much or as little as you need at any given time), massively scalable, and are available on-demand with self-service, pay-as-you-go variable cost subscriptions.
What's driving enterprise cloud computing? For sure, cost savings represent a significant driver. But far more important are the changes going on in the larger world outside of the business world in our hyper-connected global society. With the advent of easy-to-use "Consumer IT" or Web 2.0 usage of the Internet, Social Networks are changing the ways we live, learn, collaborate, work, consume and play. These huge changes in society also disrupt the way we design and manage our organizations and our value chains that deliver value to customers.
What is a Service-Oriented Enterprise? What really differentiates a Service-Oriented Enterprise (SOE) from a traditional business model is its "outside-in" approach. A SOE creates business-driven value by defining and exposing its core business processes to the external market through the use of open technology in the form of "services." This reorganization includes new business requirements, new operating zones and new license structures that can enable improved collaboration between organizations and their customers and suppliers. A SOE has the capability to organize its responses to market shifts due to the agility within its culture, processes and IT systems.
What is Business Technology? The term Business Technology (BT) is frequently used to describe new technologies such as Web 2.0 and their use in business to differentiate them from the tools and techniques of traditional Information Technology (IT). The key differentiation between BT and IT centers on decentralization and unstructured environments. Organizations still need the centralized and structured role of IT to 20 Enterprise Cloud Computing provide back office functionality, but BT is an additional layer focusing on the front office and customer-facing business activities.
Is cloud computing the same as Software-as-a-Service(SaaS)? While SaaS vendors originally did not use the word "cloud" to describe their offerings, analysts now consider SaaS to be one of several subsets of the cloud computing market. With traditional SaaS offerings, a company is buying pre-packaged "canned" software applications (e.g.,ERP, SCM or CRM packages) that are hosted remotely, usually in a multitenancy environment, and accessed via the Internet. SaaS applications can become "participants" in unique end-to-end business processes (see BPMaaS).
What is Business Process Management as a Service (BPMaaS)? With SaaS offerings, a company is buying "same-old" pre-packaged software, but BPMaaS goes far beyond canned "business software as usual" being put online. It goes on to creating unique business processes designed for unique and specific purposes to link together multi-company value delivery systems that in the past weren't feasible or economical to join together. BPMaaS is all about the complete management of business processes, and puts business people in charge of their processes. In many ways, BPMaaS is what sets enterprise cloud computing apart from consumer cloud computing. Unique business processes are how companies differentiate themselves, and are thus paramount to the enterprise use of cloud computing for competitive advantage. BPMaaS covers the full lifecycle of business processes, from their conception, design implementation and optimization. Bringing BPM capabilities to the Cloud enables multiple companies to share a common BPM system and fully participate in an overall end-to-end business process.
What are the economics of cloud computing? Cloud computing brings immense economies of scale to computing and delivers computing resources on-demand in much the same way utilities deliver gas and electricity. In the past, companies had to make ever-growing capital expenditures (CAPEX) in comEnterprise Cloud Computing 21 puting resources to implement new information systems. Furthermore, to accommodate potential peak loads, they installed huge amounts of capacity so that today only 10-15% of data center capacity is typical utilized. The shift to the on-demand model of cloud computing isn't just about cost savings. Far more important, it's about giving organizations the agility they need to act quickly on new opportunities without IT being on the critical path. "Fast to market" is a central economic variable and speed is essential in the world of total global competition.
What's the difference between "cloud computing" and "cloud services?" In short, everything. "Cloud computing" implies a framework and vocabulary aimed at technology semantics. "Cloud services" implies a framework and vocabulary aimed at business semantics. While cloud computing belongs to the domain of Information Technology (IT), cloud services belong to the domain of Business Technology (BT). In other words, cloud services are about business, while cloud computing is about technology. The focus of this book is on the domain of business.
Reprinted with permission from the book A Strategy Guide for Business and Technology Leaders — and the Rest of Us by Andy Mulholland, Jon Pyke and Peter Fingar.
To order multiple copies, email us.
This book can be supplied in special edition versions.
Check out our suggested readings.